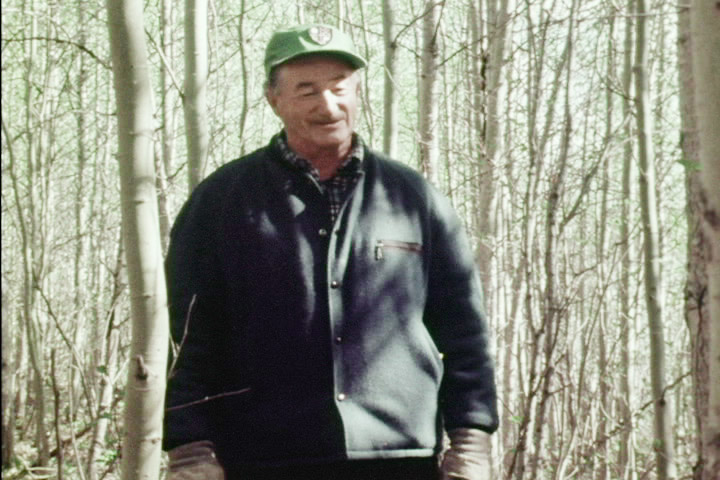 Joe Thorne ~ Pikwitonei, Manitoba ~ "Muskeg Special' (1979)
INTRODUCTION___ABOUT THE DVD___PROJECT INFORMATION___CREDITS
FILM CREW___EQUIPMENT___PRODUCTION SCHEDULE___TRANSCRIPT
PRODUCTION STILLS 1___PRODUCTION STILLS 2

BRIEF HISTORY OF REGION___RESEARCH___INTERVIEW with Oscar Olson
COMPLETE CV OF DIRECTOR, GREGORY ZBITNEW
About the Muskeg Special 'True North Edition' DVD
The 'True North Edition' of the 'Muskeg Special' DVD is 115 minutes (approximately 2 hours running time).
The documentary records the activities of people living in small communities along the
Hudson Bay Rail line during the summer of 1979, and reflects the leisurely pace
of a traditional way of life based on trapping and fishing. The cultural significance of this
unique era in the history of Northern Canada has been preserved in a format capable of being
viewed by current and future generations.
The interactive 'Scene Selection' feature on the DVD provides an easy method of navigating this
entertaining footage. By exploring an indexed map of the rail line, the viewer is able to select specific
communities as a starting point; The Pas, Cormorant, Wabowden, Thicket Portage, Pikwitonei,
Ilford, Herchmer, and Churchill. A Menu screen for each location provides linked images
to the people interviewed, as well as additional footage documenting activities in each community.
By scrolling through the choices with a remote control, the viewer may select specific footage they
prefer to view, or choose to view all available footage from the community played as a continual sequence.
'Bonus Features' include a 'Gallery' of 37 black and white photographs recorded by John Paskievich
on location, as well as a short video featuring the film crew during production of 'Muskeg Special'.
Additional 'Credit' screens acknowledge the contributions of people and agencies who have assisted
in completing this project.
NOTE ~ the DVD should be handled carefully by the edges of the disc to avoid damaging the playing surface.
The DVD will run on standard players connected to a television or built-in to newer computers.
SELECT FURTHER INFORMATION TOPICS AT THE TOP OF THIS PAGE.