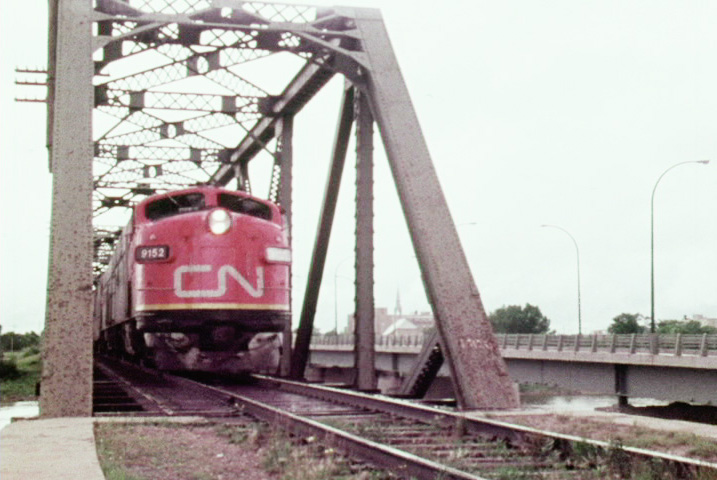 Train Crossing Saskatchewan River at The Pas ~ 'Muskeg Special' (1979)
Information about the project may be explored through the following topics:
INTRODUCTION___ABOUT THE DVD___PROJECT INFORMATION___CREDITS
FILM CREW___EQUIPMENT___PRODUCTION SCHEDULE___TRANSCRIPT
PRODUCTION STILLS 1___PRODUCTION STILLS 2

BRIEF HISTORY OF REGION___RESEARCH___INTERVIEW with Oscar Olson
NEW ~ VIEW 2 MINUTE 'MUSKEG SPECIAL' TRAILER ON YOUTUBE:
http://www.youtube.com/watch?v=qnTrN1YVKfI
INTRODUCTION TO THE DOCUMENTARY
MUSKEG SPECIAL began as an independent documentary commemorating the 50th Anniversary
of completion of the railway from The Pas to Churchill, in Northern Manitoba, Canada.
During the summer of 1979, the film's director, Gregory Zbitnew, and an intrepid crew
from the Winnipeg Film Group, recorded footage of many unique individuals
then living in small communities along the Hudson Bay Rail Line.
Originally, 12,600 feet of colour 16mm film was processed and workprinted;
(equivalent in running time to about 5.5 hours). In addition, approximately
12 hours of sound was recorded on 1/4 inch audio tape.
[Transcript of unedited footage provides a list of communities and people interviewed]
In 2006, Dream Logic Corporation obtained sponsorship to finance digitization
of the film and sound, and by June 2007, editing and design of the DVD was completed.
'Muskeg Special' also includes excerpts of 16mm movie film originally recorded
by George Coutts (in the early 1930's) along the rail line and at the Port of Churchill.
Footage used with permission from the Provincial Archives of Manitoba.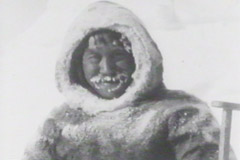 ~~~~~~~~~~~~~~~~~~~~~~~~~~~~~~~~~~
ORDER 'Muskeg Special' [True North Edition] on DVD:
The feature-length documentary has a running-time of approximately 2 hours.
To order a copy, send a cheque or money-order for $20 plus $5 for S+H to:
Gregory Zbitnew
c/o Dream Logic Corporation
517 McNaughton Avenue, Winnipeg, Canada R3R 3A1
Phone (204) 895-0658
or email: gregoryz@shaw.ca
'Muskeg Special' [True North Edition] is distributed by WFG:
'Muskeg Special' DVD is primarily distributed by the Winnipeg Film Group:
Shop On-line at: WWW.WINNIPEGFILMGROUP.COM
Email Distribution Coordinator, Monica Lowe: distribution@winnipegfilmgroup.com
or phone (204) 925-3452
[Winnipeg Film Group accepts payment by Credit Card]
'Muskeg Special' is also available at these Northern Manitoba locations:
SAM WALLER MUSEUM (THE PAS): (204) 623-3802
CRAZY PETE'S TRADING POST (THOMPSON): (204) 778-6819
ARCTIC TRADING COMPANY (CHURCHILL): (204) 675-8804
MUSKEG SPECIAL ~ EDUCATIONAL EDITION ~ IS NOW AVAILABLE
The Educational Edition was developed through consultation with Frontier School Division (Manitoba).
The DVD will be distributed to all 40 schools in Frontier Division during the fall of 2008.
The Educational Edition contains approximately 2 hours of video suitable for young audiences
with about 1/2 hour of alternative footage to the 'True North' edition of the DVD.
The Educational Edition is available for purchase by other school divisions and organizations,
since it is licenced for multiple viewer usage, it is priced at $100,
( Frontier School Division is currently preparing a study guide which will also be available.)
NEW ON DVD (October 2008)
BEEP IT! BEEP IT!
An 8 minute behind the scenes look at the making of 'Muskeg Special' through
a collection of slate markers (Select link above for further information).
'Beep it! Beep it!' is available on DVD for $10 from Dream Logic Corporation
and the Winnipeg Film Group (see contact information above).
NEW FEATURE DOCUMENTARY CURRENTLY IN PRODUCTION
From August 12 to 20, 2008, Ed Ackerman (who originally recorded sound for the
1979 documentary), and director Gregory Zbitnew, traveled the Bay Line
once again at the request of VIA Rail to present 'Muskeg Special' onboard an
excursion train to a group of travel writers. 46 attending members of the
Canadian Chapter of the Society of American Travel Writers conducted their
annual meeting in four dedicated cars which included a Skyline car with observation deck.
During the trip to Churchill (and back) we recorded 24 hours of HD digital
wide-screen footage with the intention of creating a feature documentary,
as well as material (at the request of VIA) for their website.
This documentary is currently in post production.
Highlights of the trip included interviews with Percy and Martha Laubmann of Pikwitonei,
and Brian Ladoon of Churchill, all of whom appeared in the original 1979 footage.
~~~~~~~~~~~~~~~~~~~~~~~~~~~~~~~~~~~~~~~~~~~
Below ~ LOCATION MAP ~ 510 miles from The Pas to Churchill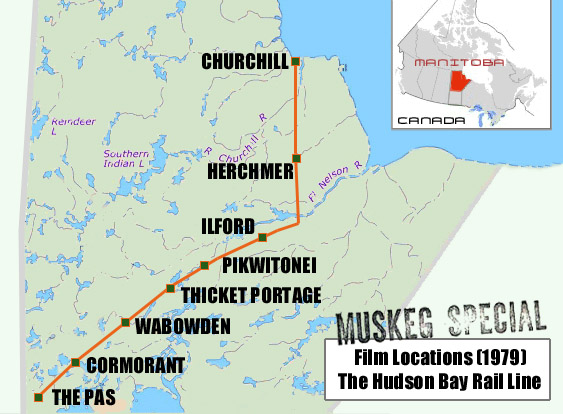 DISCOVER FURTHER INFORMATION ABOUT THE PROJECT
THROUGH LINKS AT THE TOP OF THE PAGE
RETURN TO DREAM LOGIC MAIN INDEX PAGE