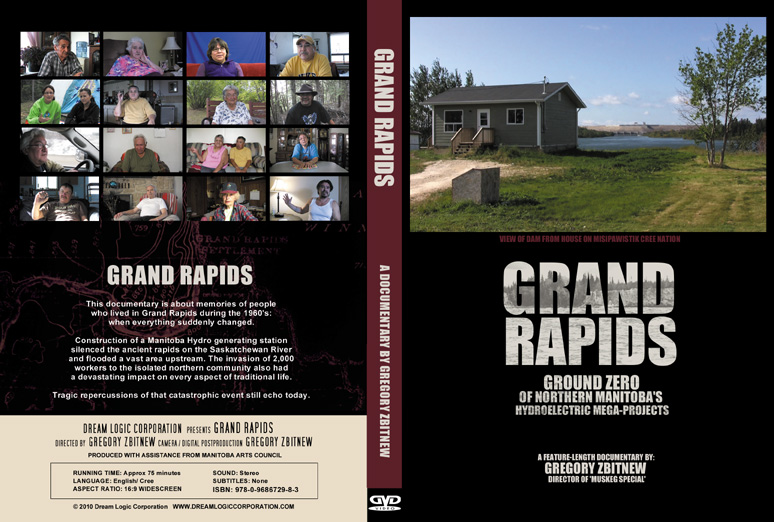 'GRAND RAPIDS' DVD COVER
FEATURE- LENGTH DOCUMENTARY DIRECTED BY GREGORY ZBITNEW
CAMERA / DIGITAL POSTPRODUCTION ~ GREGORY ZBITNEW
PRODUCED WITH ASSISTANCE FROM MANITOBA ARTS COUNCIL
RUNNING TIME: Approx 75 minutes
LANGUAGE: English/ Cree
ASPECT RATIO: 16:9 NTSC
SOUND: Stereo
SUBTITLES: None
ISBN: 987-0-9686729-6-9
FEATURING [ Identification of images on back cover ]
Albert Campbell / Audrey Hobbs / Ann Ballantyne / Ron Ballantyne
Connie and Sandra Cook / Stella Neff / Ellen Einarson / Edgar McKay
Gerald McKay / Francis Turner / Geraldine and Joe Leask / Nelly Cook
Ken Chartier / Oscar Olson / Betty Caylan / Harvey Walker
Documentary footage was recorded in Grand Rapids during September/ October 2009, and in March 2010.
Read a review of the documentary in Winnipeg's Uptown Magazine (March 2011):
http://www.uptownmag.com/movies/features/The-awakening-of-human-rights-on-screen-118201934.html
'Grand Rapids' documentary is available for $20 from Winnipeg Film Group
(NorthRoots Magazine Ad in February 2011 issue):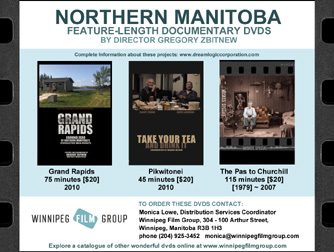 Email: Monica@winnipegfilmgroup.com

Background Information about the documentary:
Grand Rapids, Manitoba, is situated where the Saskatchewan River flows into Lake Winnipeg.
For thousands of years, indigenous people fished for sturgeon along the shoreline of the rapids.
Misapawistik was the Cree name for the rapids. The energy of the swiftly moving water provided
spiritual power, as well as increased strength in body and endurance.
For centuries, European explorers and fur traders passed through the turbulent
waters as they ventured inland from the shores of Hudson Bay.
In 1965, with the construction of a hydroelectric generating station,
suddenly everything changed. The legendary rapids were silenced
and 850 Sq Kilometers of Cedar Lake area, including the village of Chemawawin,
were flooded upstream.
This documentary is about memories of people who lived in Grand Rapids
when the mighty river flowed. The story is a record of perceptions about
how construction of the dam has altered every aspect of the resident's lives.
The intrusion of a 'foreign culture' (modern world) was suddenly imposed
upon an isolated, Cree-speaking community, replacing the traditional way of life.
All forms of trapping and fishing were instantly curtailed, consequently resulting
in social and economic devastation. People could no longer hunt for wild meat,
and the diet rapidly changed to processed nd canned food.
Grand Rapid's people who had lived on the land for a century were classified as 'squatters'.
They had their land appropriated and their houses bulldozed. A road and bridge were built
to the community and 2,000 workers arrived, along with another 1,000 hoping to find a job.
The people of the community were in fear of the workers; the crime, violence, alcohol abuse
and racial harrasment.
Forests were cleared for transmission lines and extensive quarry excavations
left scars on the landscape.
Manitoba Hydro has generated billions in profit while people less than one mile from
the power dam suffer depression and anxiety from the stress of poverty. Without compensation,
revenue sharing, or at the least, subsidized electricity. As a result there are serious
social consequences for the community; migration to urban environments, loss of contact
with nature, and loss of self-esteem. The long-term psychological impact is generational.
The tragic repercussions of that catastrophic event still echo today.
The children still do not know the full story.
The barren riverbed remains a constant reminder of what has been lost forever.

This documentary was produced by Gregory Zbitnew;
the director of 'Muskeg Special'.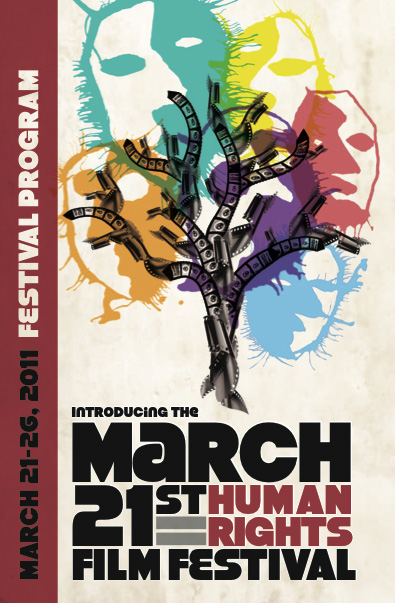 'GRAND RAPIDS' DOCUMENTARY SCREENED AT THE HUMAN RIGHTS FILM FESTIVAL
THURSDAY MARCH 24TH, 2011 (7PM) AT THE GARRICK CINEMA IN WINNIPEG
Presented by the Manitoba Association for Rights and Liberties
Web: http://www.marl.mb.ca
Blog: http://www.marl.mb.ca/discuss

LINK TO FURTHER RESEARCH INFORMATION