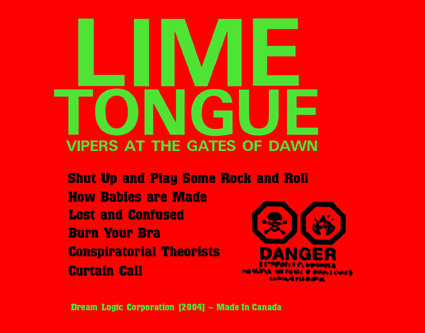 CLICK ON SONG TITLES ABOVE TO VIEW LYRICS
~
HEAR THESE LIME TONGUE TRACKS AT
https://artists.cbcmusic.ca/artist/12171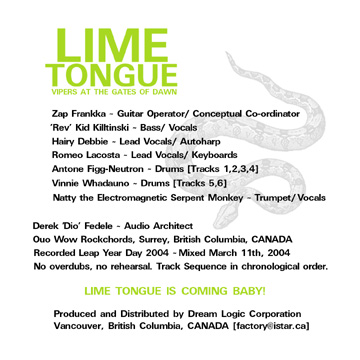 DANGER: CONTAINS EXCESSIVE ROCK AND ROLL!
The inaugural Lime Tongue release is a kick-ass album produced
by a group of friends who celebrated Leap Year Day (Sunday -
February 29, 2004) by driving out to Ouo Wow Rockchords in
Surrey, BC ~ a basement studio with great rates and a vintage
half-inch 8 track analog tape recorder. Some musicians performing
on 'Vipers' play in, or have plugged into, various Vancouver bands,
thus prefer to preserve their anonymity by using suede-o-noms
inside the sleeve... And I will let you in on another little secret ~
which may become evident as you give the disc a listen ~ not one
player had previously heard the song sketches Zap Frankka brought
into the studio that sunny afternoon.
According to Zap's nearly indecipherable ramblings, he extravagantly
claims these tracks were induced by guitar riffs and/or lyrics referencing
such notable 70's bands as; Deep Purple, Pink Floyd, Zappa, Zepplin,
Alice Cooper, The Doors, Black Sabbath... guess the others... On the
other side of the coaster is scrawled: "If it ain't fun, it ain't rock and roll...
Lime Tongue is coming baby... Lime Tongue is coming to getcha!"
Officially released by Dream Logic Corporation on April 1, 2004
EMAIL Gregory Zbitnew:gregoryz@shaw.ca TO ORDER YOUR COPY
THE 'LIMELIGHT VIDEO IS NOW AVAILABLE ONLINE
OR ON DVD ~
LIME TONGUE LIVE AT THE ADONAI
Check out the novel
'generator [ floating-point ]'
'generator [ eternal golden light ]'
Published and Distributed by
Dream Logic Corporation
Vancouver, Canada
RETURN TO INDEX