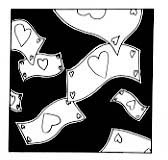 During 1987-88 ~ I was a freelance illustrator for 'Plus' magazine ~
A small glossy entertainment publication about the size of TV Guide.
Every week I had to think up a new idea for the restaurant review section.
(Which at times was difficult ~ although I enjoyed trying different styles)
And every week I was happy to earn my $50 cheque.
Here are some examples from approximately fifty illustrations
I created during that 2-year period...
PREVIOUS <------- ILLUSTRATION INDEX ------> NEXT
.